Profile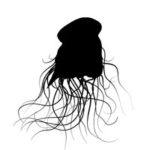 Lion's Mane Jellyfish
We're ready to answer your questions about the Lion's Mane Jellyfish, the world's largest jellyfish!
My CV
Latin name?

Cyanea capillata

UK population? (How many are in the UK?)

We can be found almost anywhere in the sea, but nobody knows how many of us there are.

Genome Size? (Genome size is the total amount of DNA contained within one copy of a single genome)

381 Mbp (Megabase pairs)

Most recent common ancestor to Homo Sapiens (presumed)

Eumetazoa, about 824 million years ago
I should be sequenced because...: My population might be growing too fast thanks to human activity, but we don't know for sure. Help scientists find out by voting for us!

About Me::

Like other jellyfish, I get around by jet propulsion, which is a cheap and easy way to move underwater. In fact, jellyfish have been proven to be the most efficient swimmers of the animal kingdom! Also like many other jellyfish, I have venomous stingers, so it's probably best to avoid hugging me! I like to live in cold, salty water and you can find me floating around in the English channel, but with climate change causing sea temperatures to rise and more storms, where will I end up? That's for scientists to discover!

Some fun facts about me:

Ocean giants – I'm the biggest jellyfish in the world. For a while I was even thought to be the longest living animal on earth, because of my tentacles which can grow up to 37m long – that's longer than 3 buses put together!

The game is afoot! – I'm famously the culprit of a Sherlock Holmes story: "The Adventure of the Lion's Mane"

Harpoons at the ready! – I have between 520 and 1200 stinging tentacles, which can keep stinging even if I get washed up onto the beach. Each tentacle has tiny little harpoons which fire and inject venom when they touch something. Check out the photo of one below!

Thanks for reading about me, don't forget to vote!
---
---
---
---
---