Profile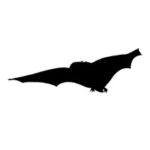 Daubenton's Bat
Another day awake and answering fab questions about me and my fellow bats!
My CV
Latin name?

Myotis daubentonii

UK population? (How many are in the UK?)

560,000 (estimate)

Genome Size? (Genome size is the total amount of DNA contained within one copy of a single genome)

1.89 billion base pairs (estimated)

Most recent common ancestor to Homo Sapiens (presumed)

We don't know but genetic analysis suggests it was probably some sort of shrew-like insectivorous animal that climbed trees & had a long furry tail and was around at least 66 million years ago.
I should be sequenced because...: Bats break the rules! Understanding our superimmunity to lethal diseases like rabies could help people too. Unlock our dark secrets!

About Me::

I'm a Daubenton's bat – please sequence me!

One of the true Stars of the Night, as I bat I can find my way about in the dark using my superpowers of flight (we're the only mammals that can truly fly) and echolocation (you can't hear my calls because they are ultrasonic – but I pick up the echoes that  bounce off trees, water, and my dinner to let me navigate at night). I'm most dangerous to the hundreds of insects that I eat every night but my species is the only native one in the UK known to carry a type of rabies virus. A few Daubenton's bats carry European Bat Lyssavirus Type 2, which can cause rabies in humans but doesn't seem to cause it in bats. Unlocking our genome would help solve this mystery.

Foraging

Daubenton's bats usually feed within about 6 km of where they roost, but we have been recorded following canals for up to 10km (at speeds of up to 25kph). We usually take insects from close to the water but we can take our prey directly from the water surface, using our large feet as a gaff or our tail membrane as a scoop. Our diet consists of small flies (especially chironomid midges), caddisflies and mayflies – delicious!

Roosts
In the summer I like humid, more or less underground sites near water. These may be tunnels, culverts or bridges over canals and rivers, or in caves, mines and cellars. I like trees too and will sometimes make use of bat boxes that humans provide. Some of my friends can occasionally be found in buildings, usually old stone structures such as castles and waterworks. I have distant friends up in Scotland, and they roost more frequently in buildings. I once heard about a Daubenton's bat that was seen entering a small hole in an  roadside earth bank!

When we're all together in the summer, we can get quite noisy throughout the day, especially at sites where we are close to human activity. We don't stay home all the time and like to use a variety of temporary night roosts, often in trees or tunnels close to the feeding sites (very good when you've had a big meal and don't want to fly all the way home!).

Many Daubenton's bats hibernate in caves, mines and other underground sites. In extensive tunnel systems with large numbers of bats present, Daubenton's bat are often the most numerous species. I found a nice disused kiln that I like to use in winter (that's me in the pic above – I promise I'm happier than I look!).

Reproduction

Our pups are born in the summer (although mating takes place in the autumn and active males will continue to seek out and mate with females throughout the winter). Maternity roosts are occupied from late spring and sometimes until October. Young bats are suckled for several weeks and are fully weaned and able to forage for themselves at 6 to 8 weeks. The average colony size is between 20 to 50 bats (up to 200).

Echolocation

Like other bats we use echolocation to navigate and find our food. Humans can't hear our calls as they are above your hearing range. Our calls can be from 35 to 85 kHz and are loudest at 45 to 50kHz. On a bat detector the calls are heard as a machine-gun like series of regular clicks for bursts of 5 to 10 seconds (if you haven't been on one, you should get out on a bat walk and/or borrow a bat detector so you can hear us shouting!).

Distribution

We're a fairly widespread species, and I have relatives all the way up to northern Scotland, in Ireland and on the Isle of Man. Despite severe loss of and damage to wetlands and waterways, in parts of our range our numbers seem to be increasing. This may in part be associated with the increasing number of artificial water bodies, including gravel pits, reservoirs and flooded quarries. Also a low level of pollution may encourage a more consistent supply of certain insects.

However, we aren't doing well everywhere. The loss of diversity of aquatic insects has a detrimental effect on other animals and without very careful pollution controls would also affect us. The removal of waterside trees and disturbance to hibernation sites could also lead to a decline in my species.

Why sequence the Daubenton's bat genome?

A small number of Daubenton's bats carry a rabies virus called European Bat Lyssavirus Type 2 (EBLV2). EBLV2 is not the classical rabies which is usually associated with dogs; classical rabies has never been recorded in a native European bat species.

Although EBLV2 can cause rabies in humans (there have only been two known cases, one of which was in the UK), it doesn't seem to always cause the disease in bats. Understanding how bats can carry the virus without getting sick would help scientists. Having a fully sequenced genome for the Daubenton's bat would really help our research.

Bats are not normally aggressive and will avoid contact with humans. This means that there is no risk if you do not handle bats. The rabies virus is transmitted via a bite or scratch from an infected animal, or from its saliva coming into contact with your mucous membranes (your eyes, mouth or nose). If you do need to handle a grounded or injured bat, always wear thick gloves to avoid getting bitten. If you require further advice, you can call the National Bat Helpline on 0345 1300 228 or see more information on the Bat Conservation Trust website.
---
---
---
---
---