Profile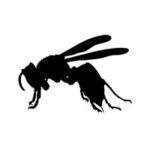 Asian Hornet
My CV
Latin name?

Vespa velutina

UK population? (How many are in the UK?)

Not yet here but a few failed attempts…

Genome Size? (Genome size is the total amount of DNA contained within one copy of a single genome)

We don't know. But my other wasp relative's are around 250MB.

Most recent common ancestor to Homo Sapiens (presumed)

We don't know, but our last common ancestor was about 794 million years ago! This ancestor was probably a benthic, ciliated acoelomate worm which was essentially a tube with a mouth at one end and excretory organs at the other.
I should be sequenced because...: It will help develop methods to control invasive populations of the Asian hornet and also learn about the genes for social living.

About Me::

I'm not just another pesky picnic-bothering wasp….

I'm the Asian hornet, Vespa velutina and I'm a really big wasp, with lovely orange and black markings. I'm a bit smaller than the European hornet which is native to the UK where it plays an important role in keeping our ecosystems healthy, but I could cause a lot of trouble! You've probably heard about me in the news. I'm an invader and I have the potential to be a big threat to wildlife in the UK if I settle in – at the moment my attempts have been thwarted. But before we get onto my dark side….

I have an awesome social life!

I'm a social wasp: I live with 1000s of my siblings in one big house made out of paper. Our societies are just like honeybees: we have a single queen, and the rest of us as sisters – most of us are workers who do all the housework, food gathering and childcare. But at the end of the summer, our mum will produce the royal brood: these are our sisters too but they will be new queens (just like mum) next year. We're really proud of our royal sisters – they share our genes and so carry on the family name from one generation to the next. Oh yes, we also rear brothers at the end of the summer– but they just mate with other new queens, and then die. Shame….but to be honest, our brothers are not very helpful in the home, and so we don't mind that they're so short lived.  Our amazing social life makes us one of the wonders of evolution: even Darwin was puzzled about why we would stay at home and help rather than leave and make a nest alone!

I'm an alien and I'm taking over Europe!

Originally, I came from Asia, where I'm a tasty local culinary delicacy (nice juicy larvae!) and I don't cause too much trouble. But thanks to you lovely jet-setting humans, you've helped me invade new lands: I'm now a very successful 'alien species' and am spreading very rapidly across Europe! In 2004, we had only three nests in Bordeaux, France; by 2011 we had 4170 nests across France: in only six years we've invaded 190,000 km2, that's a rate 100km every year! We're all over France now, and also northern Spain and Portugal; we're also in northern Italy and Belgium; we're starting to reach the UK (we're already a problem in the Channel Islands). You Brits have found three of our queens in mainland UK so far and sadly (for us), you've got rid of us. However, all we need is a single queen to survive a whole summer in the UK, establish a nest and produce next year's queens, and we'll be with you for the long-haul!

Why should you care about my arrival?

I'm an 'invasive' species. That means I'm a major cause of biodiversity loss. I'm very fond of honeybees – as food! Yum! Up to 60% of my diet comes from honeybees. Your poor European honeybees are rather pathetic at fighting us, I have to say. Our Asian honeybees have evolved special behaviours to kill us – the cluster round us and cause us to over-heat and die. But your European bees haven't evolved this behaviour (they've never needed it!)…without this defence strategy, I'm sorry to say that we're pretty much wiping out the honeybees and also other important pollinators.  This is costing the beekeeping business a huge amount of money.

I'm one of the most dangerous invasive species in Europe

Because of the ecological and economic threat I pose, the European Commission have listed me as one of 36 invasive species that require urgent action across Europe. Brexit or not – you humans going to need to team together across Europe and act fast to stop me causing serious damage in the UK!

Sequencing my genome will help you to stop me killing your native bees and wasps.

A genome sequence could help you design chemicals that help target my species, but don't hurt your friendly native wasps. These might be odours that confuse us and lure us into traps; they might be 'vespicides' (wasp-specific-pesticides) that make us die, but don't hurt our European cousins; you could even change the DNA of our males so that they spread infertile sperm across the population. These things are difficult to do without a genome sequence.

 

Sequencing my genome will tell you how to have a good social life!

How you behave depends on what your genome does: you are a product of your genes. Scientists can use my genome to find out what genes I use to make me a queen or a worker; they can also compare my genome with that of other social insects, like the honeybee, to ask questions about how evolution produces the same thing over and over again. Is there one recipe for 'being social'; or did we evolve sociality using different types of genes, or by evolving novel genes that only our species have? The million dollar question is whether the script of the honeybee worker's social life is the same as the script of the hornet's social life?
---
---
---
---
---